Lingeriewolf believes You Deserve to Feel Great in Sexy and Erotic Lingerie!

With sexy lingerie you can make any night memorable. It is hard to find a reason not to own some lingerie with all the choices and affordable prices out there. You can chose from elegant and glamorous to sexy and daring. And when you shop online, your choices become almost limitless. If you are rather on the shy side, buying erotic lingerie online has taken the awkwardness out of purchasing it in person. And without having to go to a store, your choices can be even more daring.
However, there are a few important rules to follow when you are buying online. Measure, measure, measure, to make sure you get the right size. Buying lingerie online through Lingeriewolf is fun, but your plans are ruined if it comes in the mail and it is the wrong size. Measure yourself using a soft measuring tape, or go to a tailor or dress shop and have your measurements taken.
With so many choices in intimate apparel, it can feel a bit overwhelming at first, but once you know your proper size, go shopping! You can start with really sexy and erotic lingerie, or you can be a little bit more conservative and start with just a sexy dress. The choice is yours. Remember that you want to feel comfortable wearing your lingerie you just purchased. If in doubt buy something where you will feel pretty in rather than an outfit that might make you feel silly.
Lingerie is offered at almost every price point, but keep in mind, that you generally get what you pay for. A nice piece that you can wear for a long time to come will certainly cost you more than something you just plan to wear once or twice. And quality shows in lingerie, too.
Remember to emphasize your assets when selecting erotic lingerie. Large hips and lingerie with fitted waistlines do not go well together, better go for a straight cut instaed. Waist cinchers and bustiers are also emphasizing on the hip area.
If your belly is the "problem zone", wear something which turns the eyes to your bottoms, hips or breasts, some fancy thongs for example.
If height is your challenge, select styles which create illusions and stay away from erotic lingerie which are too long. Go for something with slits in the leg area to make you look taller. A short baby doll works fine, too.
If you are tall, cut your height by wearing a tie or lace around the waist. Exposing your long legs with short robes or gowns can make your height work for you.
Whether it is to brighten a dulling relationship or enhance your lives, wearing erotic lingerie can turn a normal evening into a memorable and exciting night. From sexy bustiers over heart racing thongs to anything that your fantasies may entail, wearing sexy and erotic lingerie is a fun way to open up new doors and let you experience a feeling of newness between the sheets.
So, do not be afraid, nervous or anxious about your decision to finally "get some sexy lingerie stuff".
Leave your inhibitions at the door, trust yourself, your partner, and plan to have some fun!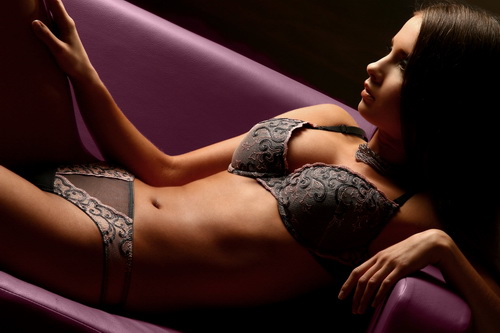 For some really nice and extraordinary Lingerie have a look